Star Wars Legos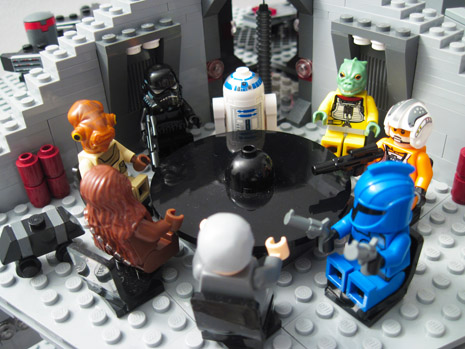 A board meeting in the Lego Star Wars universe.
---
---
Seriously, do Legos get better than this? Star Wars Legos, definitely the most popular Lego theme ever introduced, have been a fan favorite that has captured the imagination of adults and children alike. Star Wars Lego toys have featured a wide range of vehicles and environments and, of course, the wonderful Lego Star Wars characters that we have come to love and covet and spend hundreds to get (don't you love the famous 10123 Cloud City set, which routinely sells for upwards of $400 on Ebay. Are these children buying these hard-to-find Legos? I think not.)

Some great additions to the Lego Star Wars character line are the new Battle Packs. Click here for comparison pics of the new Mandalorian figures with Lego Boba Fett!

Click here for a look at the new Lego Clone Trooper Battle Pack!


For some reason, the Star Wars theme just lends itself to Lego creativity. There's something really neat about seeing an X-Wing or Imperial Star Destroyer rise out of a pile of gray (or bley) plastic bricks. I just completed the build on the ultimate Lego Star Wars minifig extravaganza,the Lego Death Star.




See more Lego Star Wars Characters

The best Lego set ever- #10188 Lego Death Star!

A Goofy Lego Mash-Up: Star Wars and Pirates

Return from 'Star Wars Legos' to Brick-Building-Ideas Home Page

Learn about the creator of Legos