Lego Mandalorian Battle Pack
Proof that The Lego Group does listen to its fans in creating set designs, the new Lego Mandalorian Battle Pack, released alongside the 7913 Clone Trooper Battle Pack, represents one of the most requested Lego Star Wars designs finally come to reality. This is a great set, with a fun speeder and large cannon.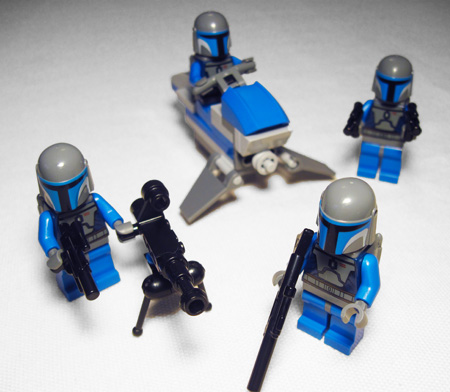 For those who don't know, the Mandalorians are a group of extreme commandos who are feared everywhere in the Star Wars universe for their skill in battle. They wear a unique armor (known as beskar'gam) and their entire culture is based around warfare. Jango Fett, a Mandalorian, was the template used for the production of the Clone Army in "Episode II - Attack of the Clones", and his son, Boba Fett, (actually an unmodified clone) became a bounty hunter after his father's death.

Pictures of more famous Lego Star Wars characters, including Lego Darth Vader, and some not-so-famous characters, like Obi-Wan Kenobi's brother, here.

Below is a picture of Boba Fett with the Mandalorians from the Battle pack. I believe this picture was taken at the yearly Mandalorian Family reunion.


The Lego Mandalorian Battle Pack is a great addition to the Star Wars Lego line. We have been waiting and asking for a representation of the Mandalorian armor outside of the Jango Fett and Boba Fett figures, and here it is! The helmet and jet pack are separated, in the fashion of the recent Lego Boba Fett from the 2010 rerelease of the Slave I (set 8097). In the earlier sets, the helmet and jetpack for Boba and Jango were one piece. The new design looks more realistic and allows for flexibility in the neck for these figures.

One of the slight disappointments of this set is the lack of a difference between the four Mandalorian figures. They are all exactly the same, as opposed to the many variations of the Clone troopers like the ones from the recent Clone Battle Pack. Hopefully we will get more Mandalorian sets in the future (the Mandalorian league "Death Watch" has become more significant in the recent "Clone Wars" TV episodes) and will have more variations on the Mandalorian figure design. Another strange thing is that the faces are all exactly the same, just like the Clone Troopers. Someone should point out to the Lego designers that the Mandalorians are not clones, but this really is a minor quibble.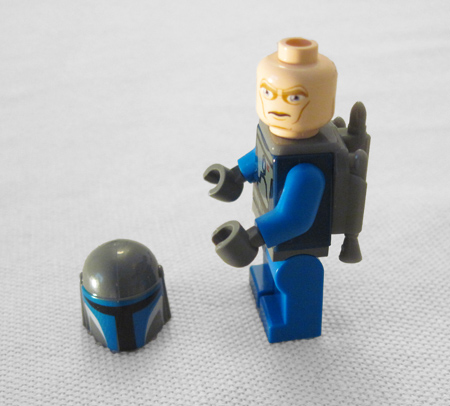 It's great to see Lego responding to its fan base with the production of sets. The 7914 Mandalorian Battle Pack is a fabulous addition to any Lego Star Wars collection. Pick up one today!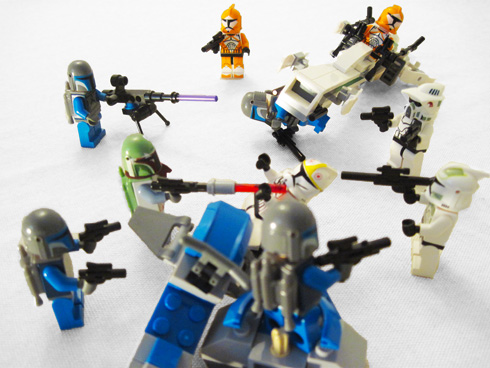 Click here to see pictures from the new Lego Clone Trooper Battle Pack.
And yes, I know that Boba Fett shouldn't be fighting a Clone War battle alongside the Mandalorians. Don't freak out on me, guys.


Goofy lego Mash-Up, Lego Star Wars and Lego pirates!

The greatest Star Wars Lego set ever- the Lego Death Star!

Return from 'Lego Mandalorian Battle Pack' to 'Lego Star Wars' Main Page

Return to 'Brick-Building-Ideas' Home Page