Who Invented Legos?
Ole Kirk Christiansen!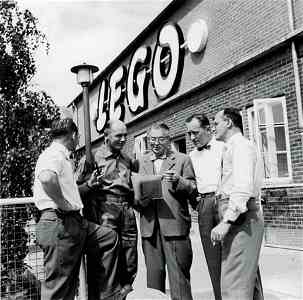 Who Invented Legos? Lego bricks were invented by a Denmarkian carpenter (I mean, uh, Danish carpenter. But that makes him sound like a pastry...) named Ole Kirk Christiansen. Christiansen's family was quite large (he was the thirteenth son!) and quite poor. He started his own business as a carpenter in 1932, building various tools and furniture and also wooden toys. He used a combination of the Danish words "leg godt," meaning "play well" to name his company "Lego". His son, Godtfred Kirk Christiansen, joined the company in 1942.
During the study of any successful person's life, on inevitably encounters a turning point- a moment when a choice between mediocrity and greatness in the face of disaster and tragedy exposes the strength of a man's heart. Christiansen's story is no exception.

In 1944 his factory burned to the ground. Standing at the site of the ruins, Christiansen and his workers had to make the decision of whether to turn aside to some other work or to press on. As is the case with all great men, Ole Kirk was gifted with a spirit of dogged determination. The factory was rebuilt, and production of his wooden toys resumed.
As the company grew and expanded, moving from wooden to plastic toys, it soon became clear that the most popular of their products was their plastic interlocking building blocks. In the early 1950's the Lego company had trademarked their name (then "Lego Mursten" meaning "Lego Bricks")and sold sets that featured figures (now known as "minifigs"). These primitive sets were the precursors to the Lego sets we know and love today.
In 1958 Ole Kirk Christiansen died and his son Godtfred took the company's helm. Under his leadership, the company went to all new heights, eventually moving to international sales. Lego released the first Lego sets in America in 1961.
Since that time, the thousands of Lego sets and characters that are now available have sprung from the minds of the inventors at The Lego Group. From Pirates to Policemen, Lego continues to capture our imagination in every way possible.

What would Ole Kirk Christiansen have thought of The Lego Group today? Who knows, but I think he would smile at the many new types of sets and themes that are available. I think he would love the Lego Star Wars and Pirates of the Caribbean
sets, and be proud to know that his simple invention has worked its way into hundreds of thousands if not millions of homes across the world. Truly the man who invented Legos has a special place in all of our hearts.



---
Return from 'Who Invented Legos' to 'Brick-Building-Ideas' Home Page

For more information on Ole Kirk Christiansen click here


Leave A Comment
Do you have a comment about this page? Share it!